WhatsApp is bringing something new to the table every month or two. Ever since this instant messaging app conquered the app market, it has brought so many new features. You may be already using some of them but lets see the detailed list.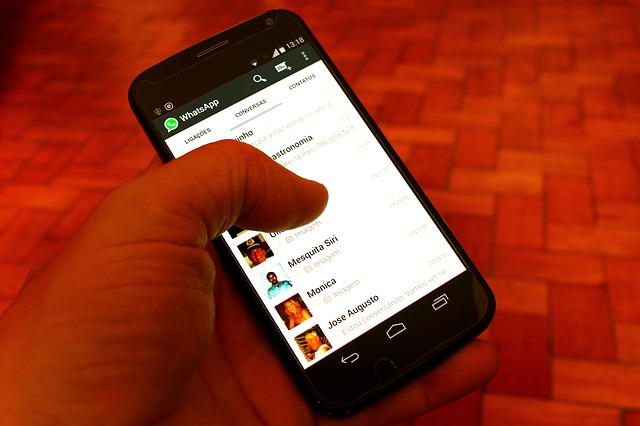 1. Tag your friends in group chats
Remember the days, when Facebook started @mentions? Nowadays, people use it so often on Facebook. Whether its in photos, comments or in status messages, you will see people tagging their friends at all these places.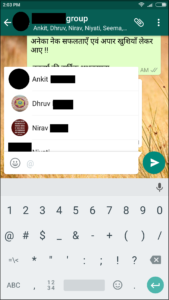 Although WhatsApp has this feature too, the purpose is little different here. Its more meaningful and useful. Its more like waking up your friend who is sleeping.
Simply press @ on your smartphone keyboard and it will display all the members of the group. You can tag anyone and then the person will get the notification that they have been tagged. The beauty here is that the person will get the notification even if he or she has muted the group notifications.
2. Quote specific message to reply
This feature works both in group as well as individual chats. However, its mostly used in groups more than individual chats.
Suppose there are hundreds of messages in a group when you wake up in the morning. You now want to reply to specific message out of those messages. So that everyone will come to know what you are replying to.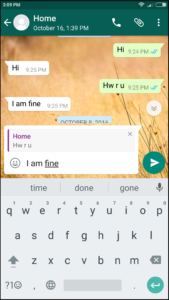 Simply long press the message, you will get the option to reply on the top bar. This will quote the specific message along with your reply. Now this can be helpful in individual chats too. Reply to specific message so that the other person will know which message you are referring to.
3. Send GIF images from gallery
GIF images are trending everywhere. Ever since Facebook and Twitter allowed them, we see 1 in every 4 images as GIF image on these social networks.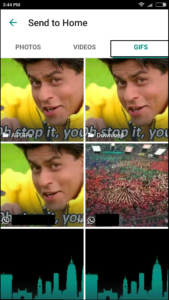 WhatsApp beta users now have GIF support enabled that means they can share it directly from the phone's gallery. GIF images on the phone are separated in a new tab and one can select from it.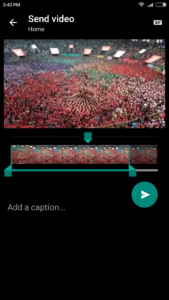 However, one can also create a GIF out of any video. WhatsApp allows to create GIF from a video. To do this select any video from the gallery and then crop it to upto 6 seconds or less. Once you crop the video, the inbuilt editor will show you a small video icon on top right corner.
Once you tap this icon, it converts to GIF and then you can send it to the particular contact. How cool is that?
4. Use WhatsApp on computer easily
If you are a desktop person and you hate going to your phone to check WhatsApp then this is the best solution.
Now there are many apps including official WhatsApp desktop app by WhatsApp itself. However, the official app doesn't run on Windows 7 and lower. Also you will have to often login again every time you turn on your PC.
There is a Chrome app called WhatsDock which works like a charm. Pin this app to your taskbar and keep your WhatsApp logged in there.
Whenever your phone is connected to the same Wi-Fi network as your PC is, you can check your WhatsApp on desktop too.
5. Change font type to bold, italics and strikethrough
This has been introduced for quite some time now. However, hardly anyone uses it but its useful too. You don't have to type in capital letters in order to get your point. Just use this simple codes and change font type in WhatsApp.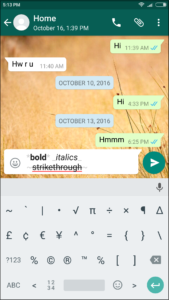 Use asterisk(*), underscore(_) and tilde(~) for bold, italics and strikethrough respectively. Add these codes before and after your text and see the change in font style.
6. Add flashlight for selfie in WhatsApp
Not all of us have the front flashlight in our smartphones. WhatsApp has rolled out few new camera features. You can instantly take photos and videos and send them to a contact.
When you turn on the flashlight feature while taking a selfie, a bright white screen pops up before taking a picture. This brightens your selfie in low light.
Moreover, you can double tap the screen to switch between front and rear camera. Also you can zoom in and zoom out while taking pictures by moving your fingers in diagonal direction on the screen.
7. Add emoji and text to photos and videos
Just like SnapChat and Instagram, you can also add emoji and text to photos and videos on WhatsApp. Whether you take picture from camera or you share one from gallery, you can edit both of them with these new features.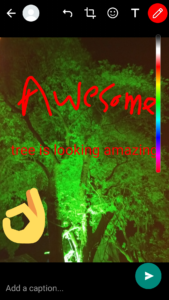 The editing tools has options for emoji, text, crop and pencil. With the pencil, you can write in handwritten style.
These are the new WhatsApp tips and tricks for power users. If they helped you then please don't forget to share them on Facebook and Twitter with your friends. Also subscribe to this blog for more such tips and tricks.