The internet today is filled with lots of information. The moment you search for some text in Google or any other search engines, it returns millions of results. Well, sometimes you want to read a lot of them but you get bored after reading few of them. Maybe because your eyes get tired or you are already tired because of other work that you did throughout the day.
In such situations, some text to speech extensions in chrome can help you. Yes, if you are a person who reads a lot of stuff online then you must have experienced this tiredness at some point. Now, no need to worry as there are some free text to speech extensions available online. Google's chrome browser has these two amazing text to speech extensions that does the job almost well.
SpeakIt!
SpeakIt is a completely free text to speech extension available online. It is available in Chrome's Web Store for free. Install this extension into your Chrome browser and open a webpage that you want it to read. Select the text and press the extension button. It will read out the text that you have selected. The extension offers some of the customizable options in the options page of this extension.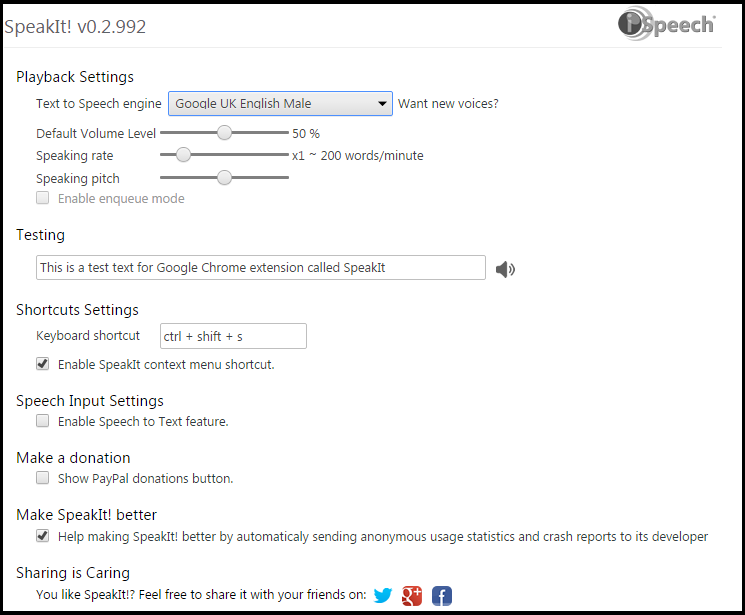 You can control the volume level, speaking rate, speaking pitch etc. The best part is it supports some of the different languages of the world. So check if your regional language is in the list, it will be more fun. Also you can change voice from female to male and vice versa.
Although you can select multiple paragraphs and try, selecting very few is recommended. It takes time for extension to convert. You might hear some words pronounced weirdly but that is acceptable as it does other job well.
Select and Speak – Text to Speech
This is another extension available for free in Chrome's Web Store. The process is similar as Speakit! but its much faster and of better quality than Speakit!.
You can select multiple paragraphs and it reads out the text at much faster pace than Speakit! Drawbacks here are that the free version does not have male voice and also it supports only English language. You can also not control speech rate or pitch in the free version.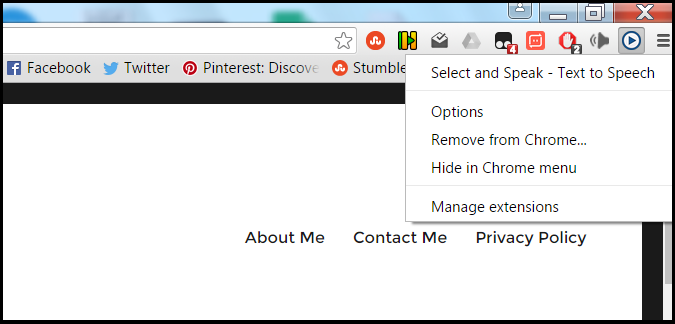 Pro version offers some more benefits like more languages support, auto language detection, speed controls etc. It is available for $2.99/month if you do annual billing together.
If you are looking for free stuff then you can try Speakit! but if you are one of those who reads a lot throughout a day, month or a year then you can try Select and Speak – Text to Speech extension.
So the next time when you think of giving it up while reading online, think of these two extensions and give it a try. With the modern inventions such as smartphones and computers, we tend to write a lot of text and also read a lot. In such circumstances, chances are there that most of us get so bored that we want somebody to read out what is there on the screen. Such text to speech extension can help us in such situations.