The first thing that people usually look for while changing their Android phones is "contacts". Contacts is probably the most essential thing for using a mobile phone. Nobody likes to lose their contacts while switching over to a new phone.
Gone are the days when we used to use SIM card memory to transfer contacts. We know the limitation of using it and the hassle that people used to face in that method. When it comes to Android phone, things are now a lot easier for people switching their phones.
One can easily recover lost Android data or backup data to PC using Android phone. So losing any data permanently is now simply impossible. The same applies to contacts. Android offers hassle free and easiest way to move contacts from one Android phone to another. Lets see the step by step guide. Before proceeding, make sure that you are signed in to Gmail app on your phone.
Easiest way to move contacts from one Android phone to another
Step 1: Open contacts on your Android phone.
Step 2: Open the settings for contacts from the drawer menu. If your phone doesn't offer you the option here then look for contacts settings on your phone.
Step 3: Choose Import/Export Contacts option or the one similar to it on your Android phone.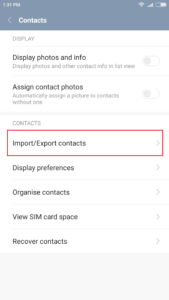 Step 4: Find sharing options like "share contacts" or "share namecard via" and click on it. Depending on your device, name of this option may vary but most of the modern devices will have this sharing option.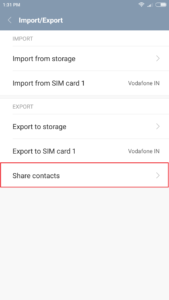 Step 5: Select "Gmail" option to share contacts via Gmail.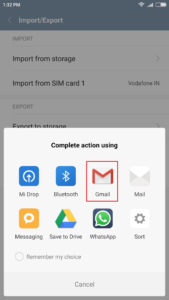 Step 6: Now simply email this ".vcf files" to yourself on the same or another gmail email that you will be using in the new Android phone.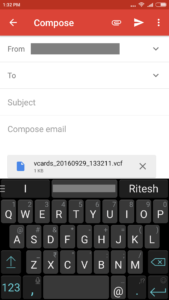 Step 7: Download this contacts file on your new Android phone from the email.
Step 8:  Open downloaded file in new Android phone and it will give you an option to save contacts to your phone.
Such is a simplicity in exporting contacts from one Android phone to another. One neither have to worry about memory limitation nor they have to worry about losing partial contacts. All your contacts are placed in your new Android phone without losing a single contact. How cool and faster is that?
You can also preserve this file to Google Drive or Gmail itself, so that you can always retrieve important contacts from here. Google offers such several options to sync various data on your Android phone which can be recovered on new Android phone easily.
Google photos allows to sync images from your Android phone and then you can access it on new Android phone too. You can also take SMS, MMS and call logs backup using Gmail. We have already seen an easier way to backup and restore them.
So once again, Gmail helps you to seamlessly transfer one of the important data i.e. contacts. If you haven't already been using this simple trick to move contacts then you can try it. Its definitely better than exporting contacts using Bluetooth or SIM card memory.