Sometimes we want our Android data which has been deleted for some or the other reason. There are various reasons to lose Android data. It is possible that you factory reset your phone because of any virus attack or you simply deleted data thinking that you will not require in future.
There are various desktop software in the market that claim to recover your Android data. However, when I went to check them all up. Some did not recognize my device only and almost all of them were paid. If your device is rooted then you just don't need them all. You can simply recover old deleted photos, videos, contacts, SMS etc. without having to connect your Android device with PC. Yes, some apps can do this for you.
While most of them will allow you to recover photos and videos for free, some will ask you to upgrade for contacts, call logs etc. When it comes to apps, some have similar model on apps too. However, when we try to recover deleted data using different apps, we can recover deleted contacts also for free.
In the list below, I will explain you what kind of data is good to recover from particular app as most of them will show different performance. So lets get started.
Stellar Phoenix Data Recovery For Android: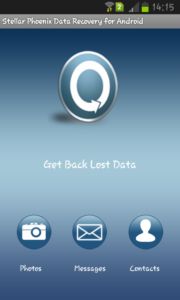 A very simple and clean app which requires root access. It can recover deleted SMS, contacts and photos. UI is as simple as shown in the image above. The photos option allows you to recover deleted photos from phone memory as well as SD card. Simply save photos to desired location after the scan has finished.
This app lets you find deleted contacts with the contacts option. You will most probably be able to recover most of the recently deleted contacts. This too can be helpful in case you quickly want to retrieve recently deleted contacts. You may find old contacts too if they still sit somewhere on your phone. A simple text file is generated with existing as well as deleted contacts. Simply find the contact that you want and add it to your phone immediately.
Messages tab allows you to retrieve deleted SMS. It also generates a simple text file with deleted SMS sitting below existing SMS. So the next time you forget to take backup of deleted SMS, this app can come handy.
All in all this app is good if you want to recover some contacts. The drawback is that you can not select photos efficiently. You will either have to select them in loop or you will have to save them all. Still the app is helpful. You can download it from here.
Dr.Fone – Recover deleted data: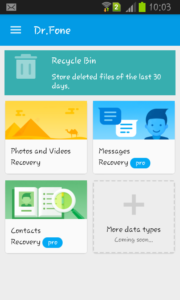 Another app in the Play Store which requires root access to recover Android phone data. This app has its desktop version too but its better to use it from phone if your phone is rooted.
Contacts recovery is not free but if you try to scan it for contacts on rooted device then it does recover contacts. However, you can not save it to the device. You will have to pay for it. One thing I don't understand here is that who will pay when you can see the results clearly without any asterisks. I could easily recover few contacts which I deleted earlier. So worth a try if other apps are not working for you.
Recovering of deleted SMS through this app won't give you the best results. It does not recover all deleted SMS and you will have to pay for it if you want to save it to your device.
The best part about this app is photos and videos recovery. You can select which type of files you want it to scan for. It can recover both photos and videos at the same time. Whether you want it to recover only jpg, png or mp4, it will recover the way you want. There is also the option like Stellar Phoenix to choose which memory you want to scan. Whether phone memory or SD card. It can do that too.
You can choose which all files you want to save from the recovered files. Further saving is enabled for any folder in your device and also in cloud storage like Dropbox, Google Drive etc. How cool is that? Save it wherever you want and most importantly all these for free. So if you forget to take backup of deleted photos then this app can retrieve the data.
This app is good for recovery of photos and videos. However, it recovers contacts also but why pay for it when other apps can do that for free. So, try it if you want your old deleted photos and videos. You can download it from here.
These two apps, in the Play Store can recover your deleted Android data for free. There might be several others but most of them are paid or the data recovered is not enough.