When you sync your iPod with newly installed iTunes software on your computer, you may lose all music files on iPod. You may have connected iPod thinking that it will sync all your music files with iTunes. However, the truth is iPod gets music files from iTunes Library. So as soon as you connect your iPod to iTunes all your music files gets replaced by empty iTunes Library files.
All these happens because one option is not pre-selected in your iTunes software. You can prevent iPods, iPhones, and iPads from syncing automatically with this option. It is available in Devices under Preferences.
Also see: How to use Spotify on Android outside US and UK without VPN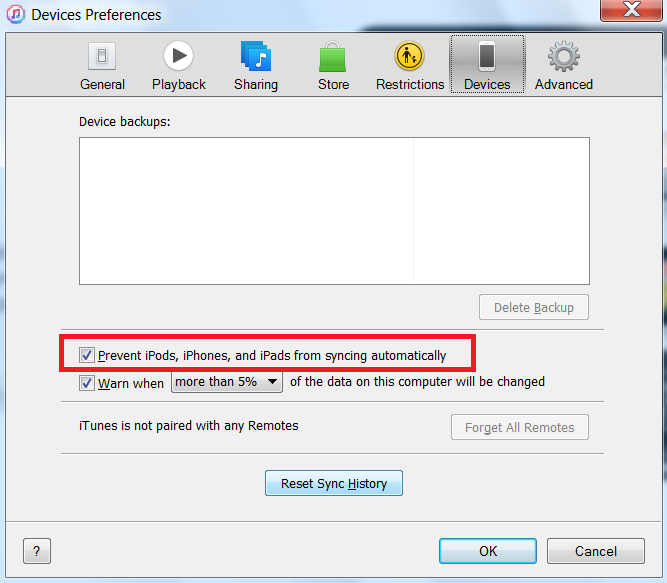 If it is not marked then you can mark it from here.
Does that mean all your music files on iPod are lost or deleted? No, they are still there but you can neither recover it from iTunes nor from iPod directly. Manual recovery also won't help you in this case. So how to recover then? Well, there are some software that can do it for you. However, majority of them are paid and can cost you anything between $40-$100.
So is there any freeway? Well, there is but not for whole of data beyond 2GB. If even 2GB of music files recovery means a lot then you can go ahead and try this trick. There are some software which will show you all the files that you can recover but when you try to recover it will ask you to purchase the paid version. So lets check out how you can recover at least 2GB of music files for free.
Recover lost music files from iPod for free (only 2GB)
Step 1: Download and install Disk Drill data recovery software from here. (only for Windows)
Step 2: Connect your iPod to your computer using a cable.
Step 3: Open Disk Drill when you have successfully connected iPod to computer.
Step 4: Choose Deep Scan from the options against your iPod drive.

Step 5: Let the software recover files from the iPod. Go to Audio section to check what is being recovered.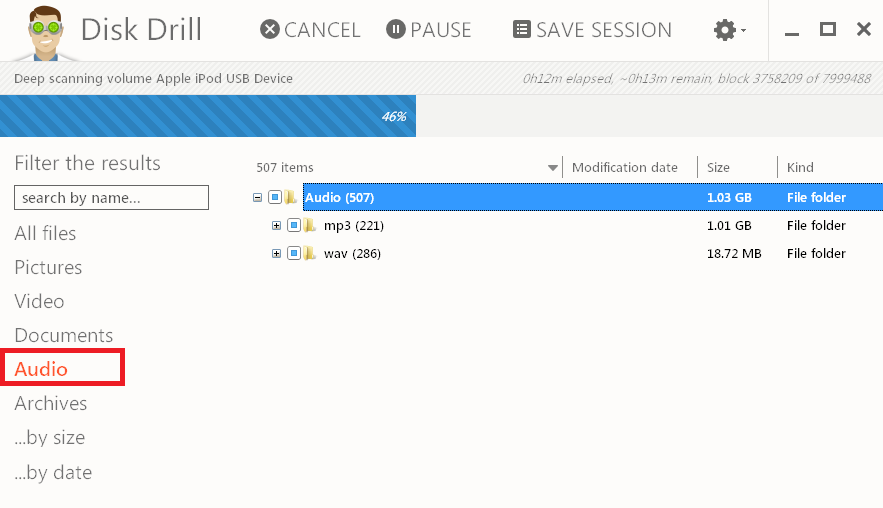 Step 6: Select the music files that you want to recover and choose folder location using recover to option.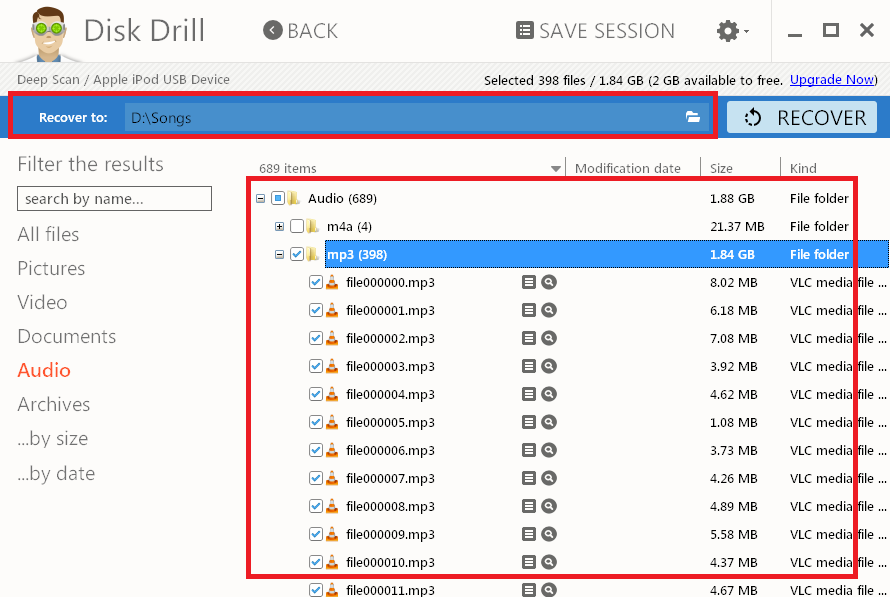 Make sure that you select total files of 2GB or less than that.
Step 7: Press Recover and it will recover all the music files in the folder that you choose above.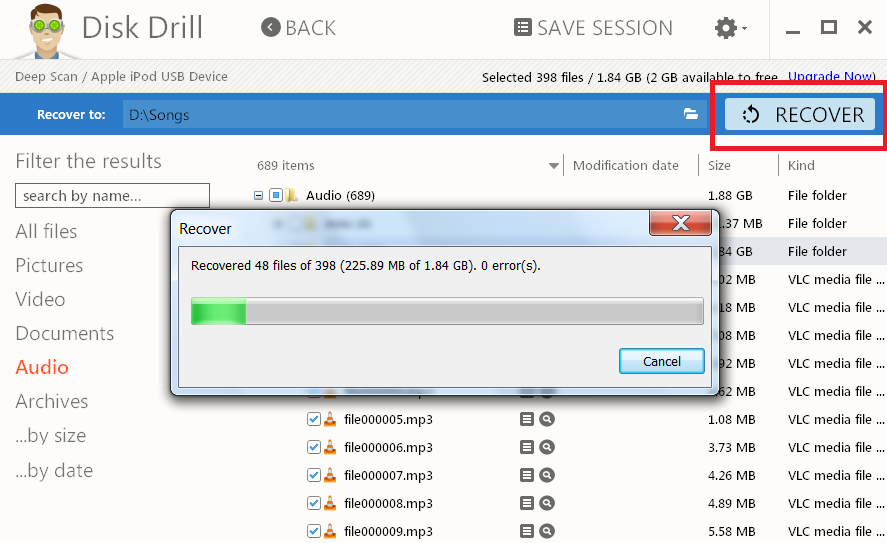 Now what if you have more than 2GB data? Well, then you will have to purchase a pro version. The pro version allows unlimited data recovery. It is available for both Windows as well as Mac.
Thus the free version allows you to recover 2GB of data for free. If you are satisfied with the recovery speed and the data recovered then you can make the purchase decision for pro version.
In my opinion, Disk Drill is the fastest in recovering files than other software. Also when no other software allows you to recover lost music files from iPod for free, this software can help you to get at least 2GB of your favorite music back. So its worth a try.