Most of us use VPN to get access to the websites that are blocked in our country. Accessing through such free VPN services is always a risk and that is why I prefer to use them as less as possible.
Spotify is one such service which is available in very few countries. One needs VPN to access Spotify outside these supported countries. Spotify has an Android app too which can be side loaded.
There is a simple workaround to use Spotify on Android without VPN. Lets see how.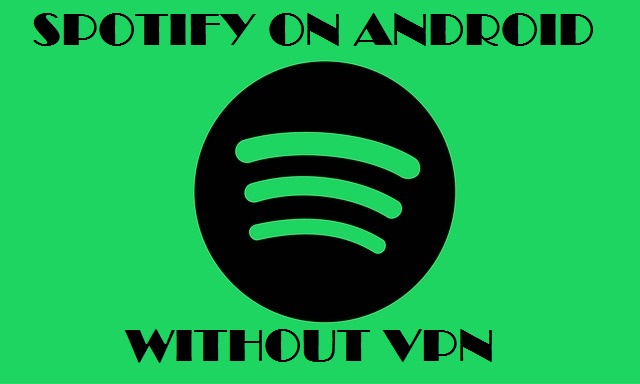 To begin with, you will first need to make an account on Spotify using its desktop website. So lets see how to register on Spotify and use its desktop application.
Step 1: Open Chrome browser and add the Hola VPN extension from the Chrome Web Store.
Step 2: Open Spotify website in Chrome.
Step 3: Click on the Hola extension and choose your country as United States.
Step 4: Reload the Spotify website to make sure that its US website.
Step 5: Open your Facebook account and make sure that your current location under your profile is shared with only friends or you.
Step 6: Signup on Spotify using your Facebook account.
Step 7: Download and install its desktop application.
Step 8: Select your country as United States from here.
Finally login to Spotify desktop application using your Facebook account and you are good to go. If it doesn't let you login then you can use desktop app of Hola or TunnelBear VPN.
Like web you can't get Spotify app on Android too. Play Store will not display Spotify in search results because it is not available in your country. However, you will not require VPN on Android to either install or to log in to the app. So to install and use Spotify on Android without VPN, you can follow the following steps.
Step 1: Download the latest apk of Spotify from here (make sure that the variant is supporting your device).
Step 2: Transfer the apk file to your Android device.
Step 3: Install Spotify on Android and make sure that you are logged in to the Facebook app with the same account.
Step 4: Open Spotify on Android and login with Facebook account.
You can now access Spotify without VPN on Android phone. You can log in and log out whenever you want. However, You can do this till only next 14 days. After 14 days Spotify will ask you to login again.
At this time, you can again turn on VPN on your desktop and login with your Facebook account. This way you will not require VPN on Android phone. This will be useful particularly to those who don't want to install VPN app on their Android phone.
Spotify is not yet available in many countries. This is a way to make it available in other parts of the world. You can skip using VPN either on PC or Android phone as far as you are using the same account to login. Yes, it works vice-versa too.
Most of the times, companies like Netflix, Spotify, Pandora etc. occasionally even restrict popular VPN services. In such case, you can try different VPN services. However, don't use them except for logging in if you are not such a fan of VPN services.